The realization that summer is about to end in less than a month brings a certain degree of sadness. In order to resist it we need to dive into preparations for the autumn trends the fashion prepares for us. A right way to cheer yourself up and boost the look during the fall is the new jewelry.
The jewelry trends of the fall 2022 haven't undergone significant changes. Year 2022 in fashion as a whole may be characterized as the year of paying homage to the previous century's trends. But to look stylish instead of outdated we need to know what vintage jewelry and when exactly it's appropriate to take out of grandma's jewelry box.
Generally, the summer tendencies in jewelry perform smooth transitions into the fall collections, changing perhaps minor details and switching to a calmer color spectrum, but not necessarily. 
Massiveness of jewelry, the abundance of pieces and bold combinations provide room for experiments and allow the creativity to add colors to the autumn outfits. Let's use this ability to the fullest to enhance our fall looks!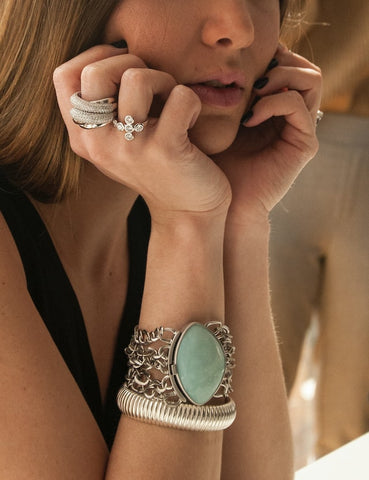 Earrings
One of the most vivid trends concerning earrings this fall is the asymmetry. Earring for one ear, mismatched pair of earrings, earrings of different length are the most popular way to wear these jewelry items right now. Dolce & Gabbana, Givenchy, Off White, Fendi, Zimmermann, Ulla Johnson… The list of designers following this trend could go on, but the autumn looks of these fashion houses completed by mismatched earrings are just incredible!
Large hooped earrings remain among the top jewelry favorites. In fact, other structural pieces as V-shaped earrings or inverted triangles, join their company, as in looks by Gucci.
Earrings with different kinds of fringe are also the piece of jewelry we may continue to wear without the fear of being outmoded. It seems, the fashionistas simply can't get enough of it and the fringe only gets longer by the day.
Pearls came in sight in spring-summer fashion collections, but during the fall they intend to fill up the mainstream fashion as they did with the fashion shows' stages. Droplets with pearls were the common sight, especially intriguing they looked in the outfits by Lanvin.
Dramatic chandelier earrings with plenty of crystals were also among different designer's favorites. Those that look like vintage and give off the aristocratic vibes are simply gorgeous for this autumn's looks.
Big statement clip-on earrings of very extraordinary shapes, resembling molten metal, will add mild extravagance to your autumn image, as they proved the ability to draw genuine interest during fashion shows.
Necklaces
The absolute favorite of the year is the chain! As we could observe during spring-summer season the chains became insanely popular and there won't be any rivals for this type of necklace during the fall as well.
For those who worry that there might be the lack of diversity with the monopoly of chains on the fashion market, we may offer a breathtaking amount of gold chain types and names to pick from. Each one of them can change the whole look or add a specific flair to the outfit.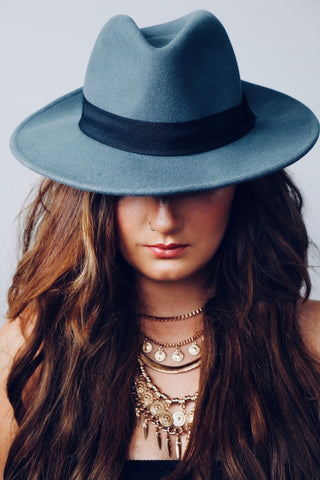 Chain chokers are frequent in the looks for women by Balenciaga, Balmain, Diesel, Dolce & Gabbana. The latter also eagerly uses real gold chains for men as chokers in their collections of menswear. Though bulky chain chokers are a must-have this season, Chanel also offers to add some layers of chains. Fendi went for more delicate chains but also chose multiple necklaces, as well as Ulla Johnson that offers chains of different length often completed with natural stones.
There was also a great variety of chokers with pearls again. Givenchy finished their looks with bulky chokers decorated by super large pearls. Versace and Dolce & Gabbana added pearl chokers to their outfits as well.
Some brands decided to leave colorful necklace options to the summer, but Louis Vuitton and Miu Miu added playful and somewhat childlike jewelry to their fall collections, probably to preserve the sunny and cheerful mood during the autumn.
Bracelets
As a counterweight to earrings, bracelets continue the summer trend of symmetry. Dramatic identical metal bracelets or bracelets that match in design worn on both hands are the hottest trend of the year. As well as stacked multiple bracelets as presented by Saint Laurent and Chanel. In autumn, they may be worn even over the sleeve as an effective integral part of the outfit.
Chain bracelets are also welcome during the season, while they are chunky enough and have a number of layers.
It has become quite common to match bracelets with earrings and necklaces in style. It seems that jewelry ensembles are slowly coming back from the long-lasting oblivion, so it's about time to rummage through grandma's jewelry box for a nice vintage matching jewelry.
Rings
Here as well no significant changes should be expected this fall. The tendency for multiple rings is marching on, growing in size and number. Chunky rings may be noticed stacked on the fingers in looks by Alexander McQueen and Balmain. Givenchy uses large rings to finish their images, and Saint Laurent pair hefty rings with large bracelets in style. Versace adds pearls to the rings as well and recommends wearing them over the gloves for the sophisticated and elegant look.
In summer it was popular to wear a ring on every finger, sometimes even a few per one finger. Autumn continues this trend, along with another one of colorful rings and rings with large natural stones. So, if you have a collection of rings you desire to show off or wish to get yourself some, that's about time.
Brooches
Not the most popular accessory, but it has all the potential to change its current situation. A nice brooch has the ability to add a special message even to the simplest outfit. Famous fashion designers use this accessory with confidence, and it works perfectly well when it comes to creating the right impression. Chanel and Gucci add this jewelry item to their looks this fall, Bottega Veneta decorates their dresses with few brooches at once, Saint Laurent uses large rose brooches to enhance femininity of their silhouettes. Taking into consideration that flower patterns, butterflies, animalistic motifs and logos remain popular this season they make a great idea for a brooch.
With the trend for vintage jewelry, brooches have all the chances to gain even more popularity in upcoming seasons.
As we can see, covering more of the skin in autumn is not the reason good enough to stop wearing jewelry. It's the motivation to experiment more with the accessories, wearing bracelets over the sleeve, rings over the gloves or necklaces under the collar of a buttoned up shirt. Use the jewelry you like to add more colors and luster to your outfits and don't hesitate to make your autumn brighter!
Leave a comment
Comments will be approved before showing up.